Sulphur in Indian Agriculture
Sulphur fertilizers can be broadly categorized into several groups. A number of these have been included in the Fertiliser Control Order (FCO) and their sulphur content is now a part of the fertilizer specifications. The pricing and usage of sulphur fertilizers is closely linked to the fertilizer policies as they directly affect the sulphur fertilizer industry.
Sulphate Containing Fertilizers
Ammoniun Sulphate
Single Superphosphate
Ammonium Phosphate Sulphate
Potassium Magnesium Sulphate
Potassium Sulphate
Magnesium Sulphate
Sulphates of Micronutrients
Gypsum
Fertilizers Containing Elemental Sulphur
Elemental Sulphur
Sulphur Bentonite
Elemental Sulphur Fortified N/P Fertilizers
Elemental Sulphur Fortified N Fertilizers
Sulphur Coated Fertilizers
Liquid Sulphur Fertilizers
Ammonium Thiosulphate
Potassium Thiosulphate
Sulphur Fertilizers in the Fertiliser Control Order (FCO)
A number of sulphur fertilizers have been included in the Fertiliser Control Order (FCO) and their sulphur content is now a part of the fertilizer specifications. It is also mandatory to declare the sulphur content in the product on the bag. The following sulphur containing fertilizers have been included in the FCO and their sulphur content are a part of minimum specified content. All sulphate salts of micronurients also contain 10-17% sulphur which is now a part of fertilizer specifications, although only zinc sulphate is listed below.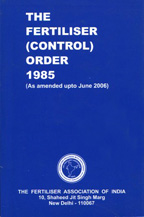 Products

Nutrient content in percent
S
N
P2O5
K2O
Ammonium Sulphate (AS)
24
21
Single Superphosphate (SSP)
12
16
Potassium Sulphate (SOP)
18
50
Ammonium Phosphate Sulphate (APS)
15
16-20
20
Elemental Sulphur products (S bentonite etc)
85-100
Zinc Sulphate
10 - 15
S-fortified Ammonium Phosphate
15
13
33
Sulphur Fertilizer Industry and Policy in India
The Indian fertilizer industry started with the production of Single Superphosphate (SSP), a well-known sulphur fertilizer, in 1906 at Ranipet, near Chennai. At present, the major sulphur fertilizers are SSP, Ammonium Phosphate Sulphate (APS) and Ammonium Sulphate (AS). In many areas mineral gypsum is also being used as a source of plant nutrient sulphur. During 2006-2007, the production of AS was 635,000 t, that of SSP 3.0 mmt and of APS 2.4 mmt, providing a total of 788,000 t sulphur. Particularly in the case of SSP, the production is much below the installed capacity of 6.7 mmt.
Sulphur as a plant nutrient has been neglected for long in fertilizer pricing and policy. In 2003, the Government recognized the place of sulphur in sulphur fertilizers and the sulphur content was included in the product specifications for all S-containing materials included sulphates of micronutrients. In 2005, the task force on Balanced Fertilization set up by the government further recognized the importance of S. The task force has made specific recommendations for promoting the use of S by stating that "Sulphur needs to be recognized as a critical nutrient at par with NPK for both price fixation and subsidy". One of the steps suggested by the industry for the revival of SSP industry is that the rate of concession (subsidy) on SSP should be linked with the rate of concession on diammonium phosphate (DAP) on nutrient basis.
In 2008 the Government of India announced a number of policy initiatives for sulphur and sulphur containing fertilizers. These are:
The maximum retail price of powdered SSP has been fixed at Rs 3,400/t and Rs 3,800/t for the granulated product uniformly all over India.
The Concession to SSP producers will be separate for those units using indigenous rock and those using imported rock. The rate of concession will be worked out on monthly basis.
Producers of boronated SSP will be allowed to charge 10% extra over ordinary SSP.
Marketing of SSP will only be allowed through "large" manufacturers with an established marketing network or through urea/NPK manufacturers. The eligible SSP companies will be those with annual sales of 100,000 tons or more. Smaller producers will have to tie up with these units to market their produce.