Information and Advocacy
Despite the many benefits of sulphur, the image of this naturally occurring element can undergo scrutiny resulting in the need for education by sulphur stakeholders.
The Sulphur Institute's (TSI) Information and Advocacy program helps the industry build a positive public image through smart, united communication campaigns, acting as a one-stop source for accurate industry information. The program's mission is to educate the public and decision-makers regarding the role of sulphur in our everyday lives.
One of the program's major components, the "Sulphur — an advantaged element®" campaign, illustrates the value of sulphur and its many benefits around the world. To support this campaign, TSI developed a white paper and video available to TSI member companies, raising the profile and awareness of sulphur's varied applications.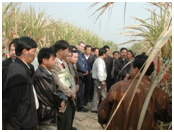 TSI continues to explore long-term, global sulphur use. Recently, the Information and Advocacy group concluded a multi-year collaborative project funded by TSI members and the Chinese Ministry of Agriculture to promote needed sulphur fertilizer use in China. This collaboration resulted in sulphur fertilizer's inclusion in the National Fertilizer Survey, and sulphur nutrient content being added to the nation's labelling requirement.
In addition to educating the public, the Information and Advocacy program is committed to sharing valuable research, news and events with member companies. An exclusive, member-only portal on TSI's website hosts a variety of publications and other support materials. TSI's Information and Advocacy program is committed to building a stronger sulphur industry through better communication and education. Future endeavors will include activities dedicated to not only sulphur, but also sulphuric acid.
TSI Staff Contact: Sarah Amirie
Resources developed by this program
Sulphur Value Enhancement
*Available only to Members of TSI